【2022 Global Innovation Challenge】NCCUC Hosts Online English Summer Program 'Advancing the Growth with Digital Asia'
After several months of careful preparations, NCCUC's 2022 Global Innovation Challenge pioneer program has officially kicked off. The two week intensive online course titled 'Advancing the Growth with Digital Asia' will run from 20th June to 1st July. It is an exciting impact-driven program with an international learning environment aiming to provide participants with unique and up-to-date knowledge of the dynamic Asian business arena cultivating responsible leaders of tomorrow.
The program features a well-curated roster of theoretical lectures and seminars taught by various highly experienced faculty from NCCUC supplemented with practical case studies, hands-on experiences, guest speakers, and virtual company visits by notable industry professionals. Professor Sonia Lo, GIC Program Director, quotes, "To bring forth the critical role Asia has played in the digital era and the impacts, the course contents will allow students to leave this program with broadened views and well-equipped with the skills to analyze and develop strategies and solutions in the modern business world that is rapidly evolving due to the digital age."
The Global Innovation Challenge itself is an alliance of eight internationally accredited top business schools worldwide. Moreso, NCCUC is delighted to be the sole alliance member based in Asia. These eight schools, who are long-standing partners, have come together combining our expertise to create student mobility and to provide programs focused on cross-cultural collaborations and courses that aim to strengthen student's global education and innovativeness. Each program offered by each school are fully taught in English and joined by master's students of these eight partner schools orchestrating the international learning environment.
To welcome these students, the opening ceremony was hosted on Monday, June 20th, Taipei Time. The ceremony and program were joined by students from across the globe from our eight partner schools within the Global Innovation Challenge alliance. It was an excellent feat for some as the program is based in Taipei Time, with students joining in from Europe and South Africa, where the time difference had them online in the early mornings.
Our very own NCCUC International Program Ambassadors were hosts of the ceremony. They opened the session by welcoming Associate Dean Professor Shari Shang. She blissfully gave a short welcome message to the students expressing, "It is quite a pity that students are unable to join the program in person on campus in Taiwan; however, NCCUC has committed to providing specialized program coordinators and a seamless learning environment to ensure an impactful experience nonetheless. Despite this, we hope this program proves to be rewarding and students are able to visit our NCCUC campus nestled in the scenic foothills of the Zhi-nan Mountains of suburban Taipei City in the near future."
After Professor Shang's welcome, Freshman and Sophomore representatives of the International Program Ambassadors shared fruitful presentations giving in-essence a virtual tour of Taiwan and about NCCU and NCCUC. Despite the program being 100% virtual, participants were still able to receive a glimpse of the School's campus and features together with the beauty that is Taiwan. Student Jacobus Smith, from University of Stellenbosch Business School, greatly appreciated the presentations as he hopes he is able to visit NCCUC and Taiwan one day.
Next off, program participants had the opportunity to give self-introductions in order to get to know each other a bit better. Furthermore, Junior and Senior International Program Ambassadors hosted a World Café session of various group discussions on the topics of Smart City Applications, Digital Marketing & Social Media, Blockchain, Investment Management, and Creativity, Innovation, & Entrepreneurship. When discussing on the topic of 'Creativity, Innovation, and Entrepreneurship', student Tushna Vevaina from University of Mannheim shared that "Digitalization and globalization has opened convenient access to more ideas and solutions changing the types of innovations there are with larger markets focused on Gen Z expressing their creativity with digital means". Student Felix Stalla, also from University of Mannheim, shared regarding the topic of 'Digital Marketing & Social Media' that "The influence of these content and platforms can be seen in everyday life. For example, depending on my mood, if there is an aggressive form of advertising while I am in a dampened mood I will feel adverse to it. However, if I am currently hungry and see an aggressive advertisement from a food seller I will be inclined to purchase from them". These discussions served as an ice-breaker for students to meet each other more intimately and get a glimpse into the topics that will be covered in the two week program.
Finally, the opening ceremony ended with GIC Program Director, Professor Sonia Lo, giving the participants a brief overview and highlighting what is to be expected from the program and the important themes related to the course contents. Themes following along with the digital growth of Asia such as AI/big data, social media communications, supply chain analytics, entrepreneurship, and much more! This concluded a wonderful start to a well-curated intensive program as students took a brief break before the first seminar on the introduction to the global economy and Asia.
On the second day of the program, focused on international business with the topic of investment management in the age of big data, students found the lecture content to be immensely practical as the afternoon session was joined by guest speakers from the prestigious National Palace Museum of Taiwan. This session provided students an in-depth look into how digital contents are now being curated in Museums with a focus on Taiwan. The following days of course lectures will continue with this unique blended format through theoretical knowledge course lectures by experienced NCCUC faculty and practical sessions of guest speakers, hands-on experiences, or virtual company visits by notable industry professionals.
The two week program will cover four main modules of International Business, Business Administration, Management Information Systems, and Accounting touching on current topics of digitalization such as smart city applications, AI technology, digital and social media marketing, blockchain, ethical issues, and innovations. Off with a great start, students will most definitely leave the program with key knowledge of business success from a global perspective, the ability to cultivate efficient communication and technological skills, and understand the challenges of the digital age from a broader and more innovative perspective.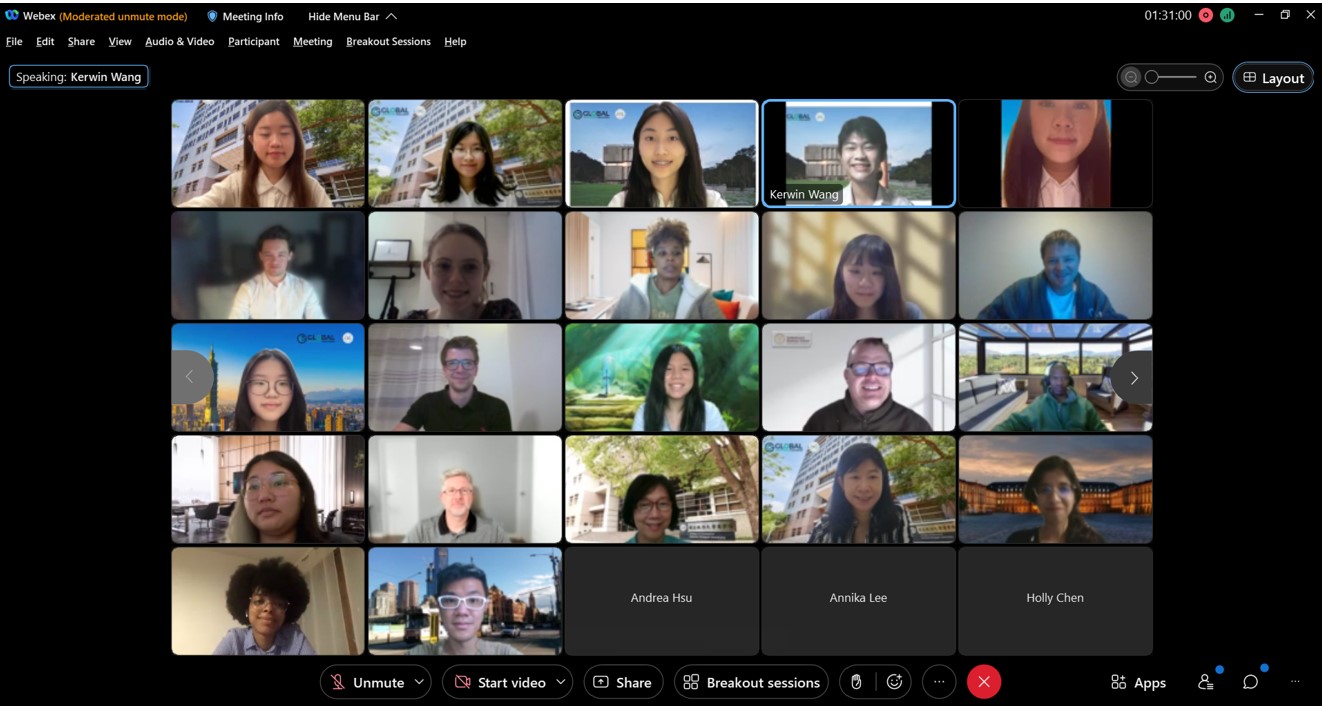 1.GIC opening group photo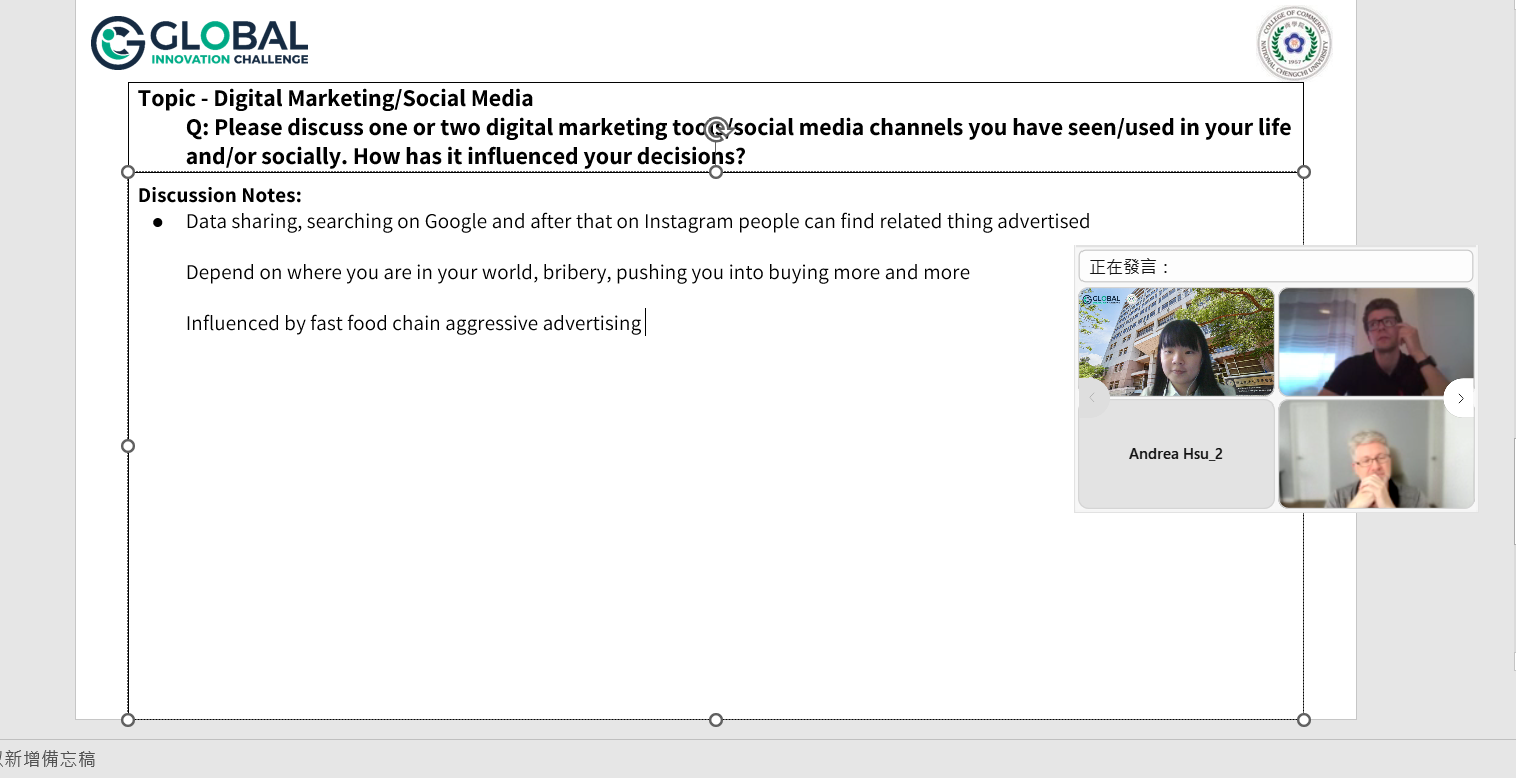 2.Opening ceremony ice-breaking group discussion on digital marketing and social media

3.Professor Douglas Chung Lecture on Investment Management in the Age of Big Data

4.Professor Lee Hsiao-Hui Lecture on Supply Chain Analytics