Exchange Students Cultural Tour on September 6th – Exploring Taiwanese Culture at I-Cake Invention Museum, National Center for Tradition Arts and Luodong Night Market
On September 6th, the Office of International Programs will be hosting a one-day tour, travelling to the Eastern coastal city of Yi-Lan. This tour will allow exchange students to indulge in Taiwanese cuisine, interact with the local people, and experience different aspects of Taiwanese culture. It will be a relaxing day to exploring Northeastern Taiwan.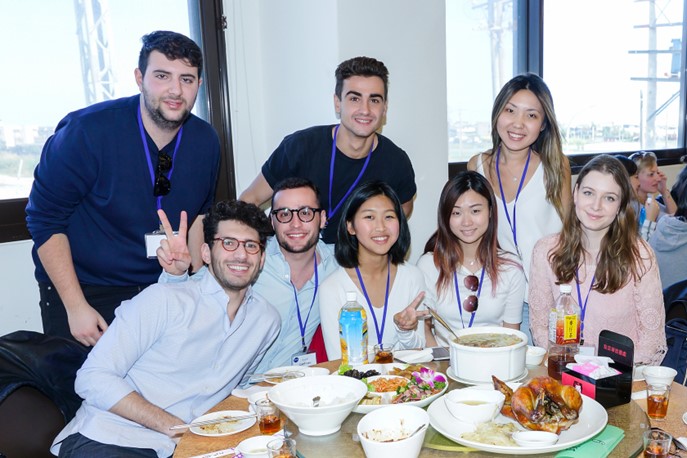 To start the day, we will be enjoying a delicious lunch at Wengyao/ Urn-roasted Chicken Restaurant. The history of jar-roasted chicken (甕缸雞) is lost in the mists of time, but it has certainly become quite popular around Taiwan, especially in the hot springs town of Yilan County's Jiaosi Township (礁溪). Wengyao/Urn-roasted chicken is roasted in thick earthenware jars using longan wood (龍眼木), arrives at the table proudly unadorned. The chicken is indeed roasted to perfection and is served whole. Please note that chicken's head and feet are all in place, don't be afraid, they are ready to let you enjoy eating them. Gloves are provided for diners to divide up the chicken. Besides the delicious chicken, there are also many traditional dishes to enjoy with.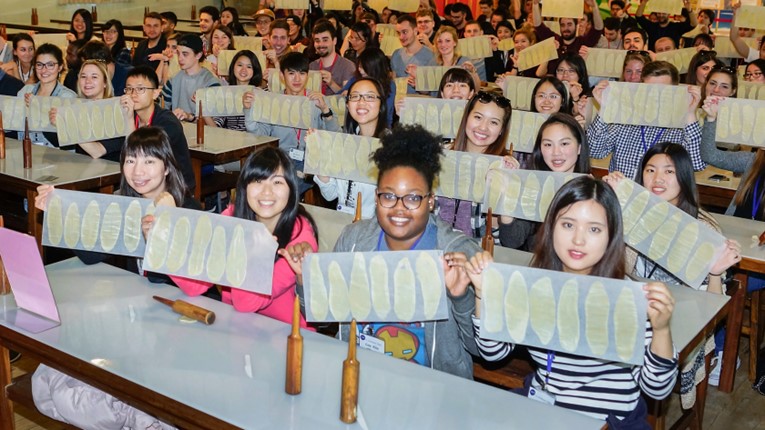 Next, we will visit the I-Cake Invention Museum to make its very own biscuit. These biscuits are the thinnest biscuits in the world with a 0.1cm thickness; it is as light as a piece of paper and pervious to light. It also happens to be crispy and delicious, truly an indulgent and special delicacy.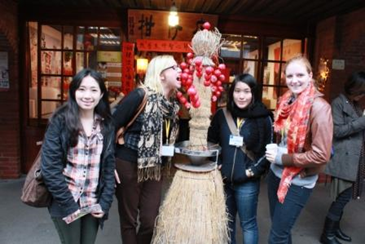 National Center for Tradition Arts (國立傳藝中心https://www.ncfta.gov.tw/en/#) is a must go place during your exchange and it is also another way to learn about local culture before starting your new life in Taiwan. This new 24-hectare facility is located beside beautiful Dong Mountain (Dongshan) River in Yi-Lan. In addition to organized displays and performances of culture and art, it also provides a stage where performing artists can show off their creative works. The emphasis here is on the continuous propagation, innovation, and renewal of traditional arts. You can stroll casually among artistic creations, listen to elegant music, and enjoy exciting opera performances--and you can even participate in the process of artistic creation yourself.
At the end of the day, we will visit Luodong Night Market for some traditional snacks and stalls containing many varieties of local food, such as scallion pancakes, clothing, shoes, accessories, and many other items. Luodong Night Market is one of Taiwan's biggest night markets and is a wonderful place to shop and dine.
Above all, this cultural tour only costs 1,800 NTD per person, including transportation, lunch, English tour guide, I-cake DIY, entrance fee, insurance, and well, unforgettable memories.

So, what are you waiting for? SIGN UP TODAY.

The deadline to submit your online registration is August 25th, 2023.

Note:
Fees will be collected when you board the bus.

Due to limited seats and insurance regulations by the Taiwan Government, we will NOT accept on-site sign ups.

Once you sign up for the cultural tour, NO cancellation will be accepted unless you got Covid-19 or having a fever. So, please think twice when you sign up the tour.

Tour will be finished around 19:30, and buses will arrive to the NCCU campus before 20:30 depends on the traffic.